Andres Iniesta moves to Japan
A football legend Andres Iniesta no longer extend his contract with Barcelona and he chose Japanese League "J LEAGUE" as his 2nd football career. 
 

Having graduated out of the famed La Masia academy system in Catalunya, the 34-year-old matured into one of the most decorated players of the modern era .He helped Barca to nine La Liga titles and four Champions League crowns during his time at Camp Nou, while also landing World Cup and European Championship honours with Spain.
Lukas Podolski announced his welcome on his official Twitter.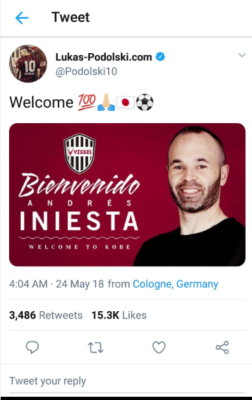 Why Iniesta chose Japan? Kobe city?
A sponsor compnay for Vissel Kobe is RAKUTEN. RAKUTEN runs the biggest net shopping online site in Japan. As many people know that RAKUTEN is a main sponsor of FC Barcelona since 2017. So the chairman of RAKUTEN Mr. Mikitani operated this big project enthusiastically.
And also Iniesta announced hes does not wanna play against FC Barcelona. So Next playing field must be outside of Europian countries,the former FC Barcelona football legend says. Mass media listed Japan, Australia, and U.S.A as a next stage that Iniesta would choose. Due to sponsor's connection, Iniesta chose Japan to play. That is the author of this blog guess.!! 
VIssel Kobe? what kind a football club is it? where?
Vissel Kobe is a proffesional football club in Kobe city, Japan. Established in 1966 as an amature football club. Longed for joining to J League. 1997 officially join to  J1 (top kategory ) 
Tiltles: No major tiltes on J League since 1997.
Studiam: Novier Studium Kobe (capacity 30134)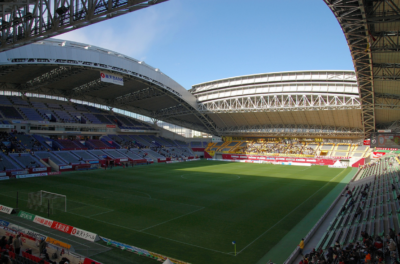 (Photo cited from: https://en.wikipedia.org/wiki/Vissel_Kobe
Former famous players in Vissel Kobe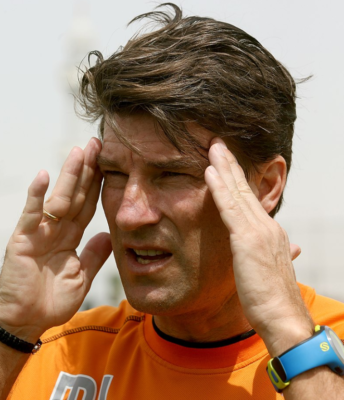 Current famous players in Vissel Kobe